Dear friends in Christ,
I hope all of you are doing well this week. We have a few things to highlight for this week:
Book and Bake Sale 10/16 from 10-2
On 10/16 we're going to have a book and bake sale fundraiser. We're going to need baked goods and volunteers to help make everything a success. You can sign up to volunteer or bake here: https://www.signupgenius.com/go/60B0548A4A82DABF58-book
Right now we need bakers, cashiers, people to help with customer assistance, and volunteers to help with clean up. We have a reception in the Social Hall on Sunday 10/17, so we need to clean up everything on Saturday. We will particularly need some volunteers with a good sized truck/SUV/van who would be willing to help transport any leftover books away. (We have a location to bring them.)
The link to the Facebook event is here: https://fb.me/e/WkKPuJYH Sharing the Facebook event helps let people know to come and buy our baked goods and books!
Also, we need books to sell! We're accepting donations of books (no encyclopedias), puzzles, CDs, and DVDs. You can bring things to the church when the church office is open M-F 9am-3pm. If the church office is closed, you can leave books in the bin at the office door. We're accepting donations through 10/10, so this is the last week to donate books!
Memorial Service for Lori Giannini: 10/17@2pm Bakers Needed!
The memorial service for Lori will be Sunday, 10/17 at 2pm. There will be nursery care available.
Following the service, the church is hosting a reception in the Social Hall, and we need some help with baked goods for the reception. Anything that doesn't require a fork to eat is great (e.g. cookies, brownies, etc.) We'll also use any extra baked goods from the bake sale at the reception.
Videos of Worship 10/3
We're still having issues with our live-stream, but we were able to record worship on Sunday. Here are the links to those videos if you weren't able to join us in person:
I've also attached a photo of some of our World Communion Sunday decorations.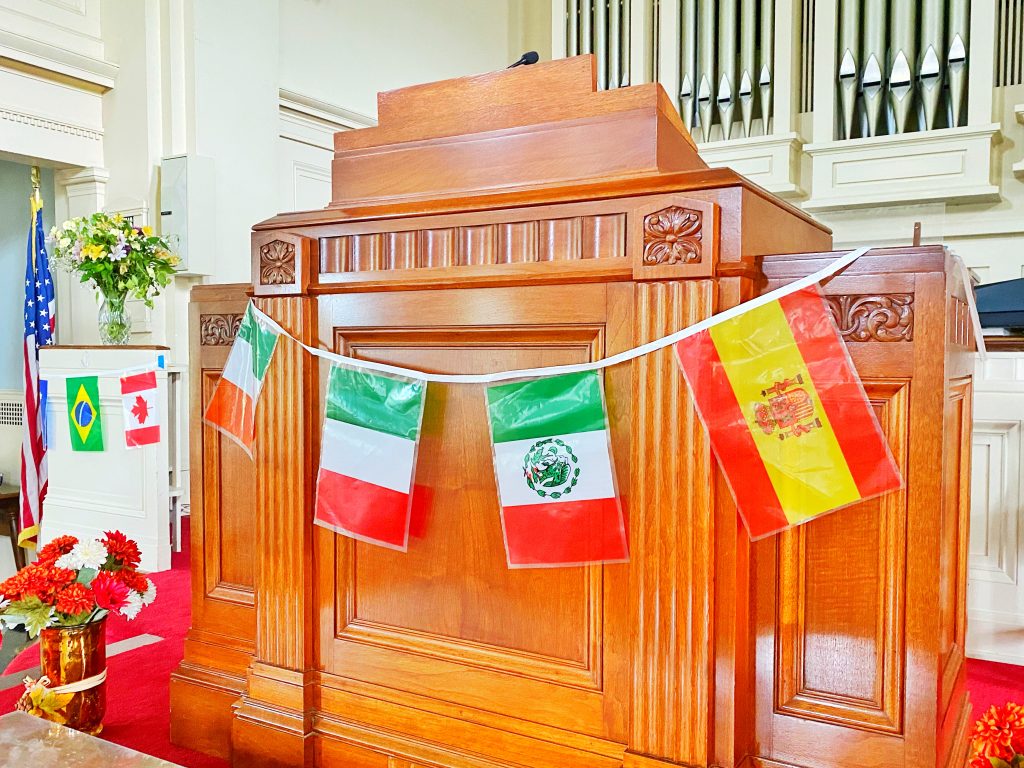 Share the Care Ministry
Our deacons coordinate a ministry at our church called Share the Care, where we provide support in the form of meals and baked goods to people in our church community who have experienced a loss, illness, or simply a big life event (e.g. new baby, etc.) We're always looking for people who would be willing to be on our list to help cook or bake when needs arise. If you're interested, contact me, and we'll get you on the list or answer any questions you might have.
Preschool on the Green Pie Fundraiser
Don't forget to order your pies from the Preschool Fundraiser. The last day is October 15th. Here is the link:
https://my.mcmfundraising.com/2021-fall-preschool-on-the-green/jeanine-bonaventure/
If you have any questions, call the church office 203-758-2671.
Homecoming/225th Anniversary Article in the Republican-American
Thanks to help from Howard F. we've got a write up in the Republican-American community news. You can see it here: https://community.rep-am.com/2021/10/06/middlebury-church-celebrates-225-years/?fbclid=IwAR0uDwQuWBJ2A1G7lzb-ti7k2oa18c1R38PR9cXtGAc8092HjEaNJ0hw-Bs
General Comments
We're entering the season where we start budgeting and preparing for the next calendar year at church, and it's also the time where we start looking for volunteers to serve in various leadership positions in our church. In the coming weeks, a mailing will be going out from the Board of Stewardship about making a financial contribution to the church for the coming year. Another way we steward our community is through how we we use our time and skills, so if you have a passion or skill for something that you want to share, let us know! Some of the places we always need help are cooking/baking, finance/business, teaching/working with kids, art, home repair/facilities maintenance, gardening/yard work, event planning, mission activities, ushering services, and serving communion/assisting with worship services. If you're interested in doing any of those things or even something not mentioned there, let me know so we can connect you with the right group at the church.
Peace,
Pastor Katrina