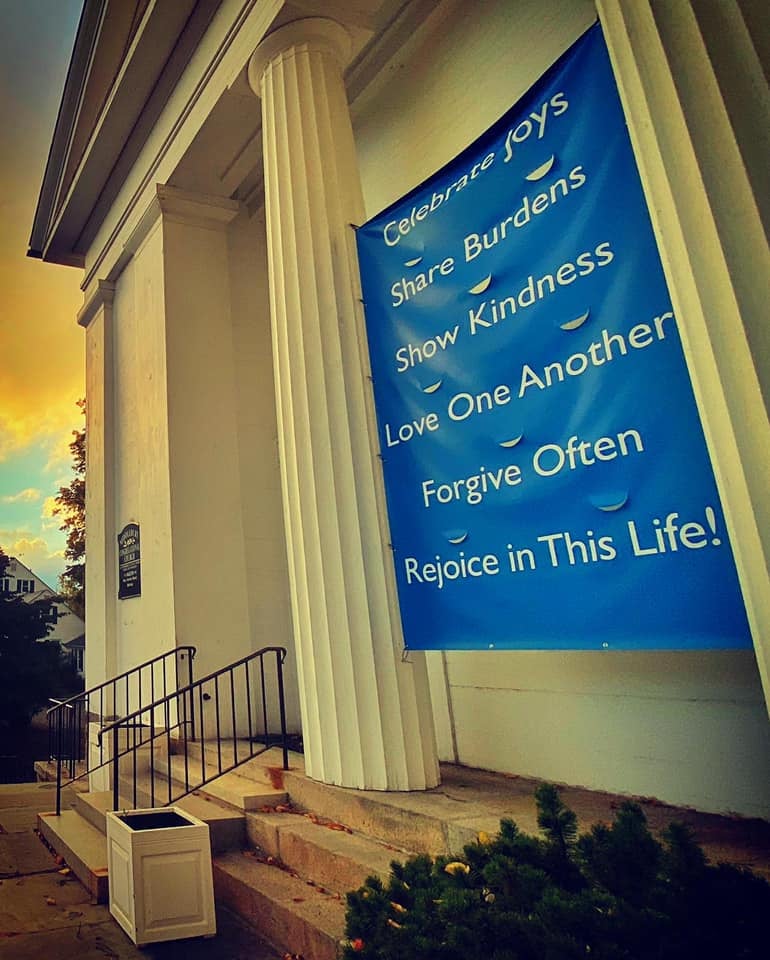 At Middlebury Congregational Church, we:
Celebrate Joys
Share Burdens
Show Kindness
Love One Another
Forgive Often
Rejoice in This Life!
What is a Congregational Church?
Congregationalism is a mainstream Protestant movement dating back to the Reformation. It took root in the America among the earliest Pilgrims who came to New England to worship as they pleased. In early American times, Connecticut would not recognize a town or village unless it had its own meetinghouse in the form of the church.
Although independent, Congregational churches aligned themselves with one another throughout history to fight for individual freedoms and social justice. The abolitionist movement had its roots in our churches.
As the name implies, the center of a Congregational Church is its people–the congregation. We are not part of a hierarchy. We don't form around a charismatic preacher. A Congregational Church is community-based, formed by neighbors and friends who are joined by their common beliefs. It is self-governing, establishes its own rules, and calls its own ministers independent of any higher authority but God.
Under Congregational polity, the congregation and its pastors decide the mission and policies of each church. No two Congregational churches are exactly alike in their beliefs or practices, although most will be comfortably familiar.
What is the United Church of Christ?
Most, but not all, Congregational Churches are part of the United Church of Christ, which formed in 1957 as a merger of several smaller Protestant denominations that were united by their belief in religious freedom. The national UCC is divided into regions. The Southern New England Conference provides resources, leadership and support to congregations in Massachusetts, Rhode Island and Connecticut.
Between each church and the conference is a regional association that is formed to support the local congregations and pastors. MCC recently joined the Litchfield South Association, which includes churches from Southbury, Woodbury, Watertown, Bethlehem and other neighboring towns in Western Connecticut.
What does our church believe?
Mission Statement
The mission of the Middlebury Congregational Church is to witness to the gospel of Jesus Christ. To that end, the congregation is organized to accomplish the following:
Worship that glorifies God and celebrates the gifts of all God's people.
Growth in individual Christian discipleship through work and study.
Service to the surrounding community and to the wider world.
Fellowship that strengthens the bonds of compassion and concern.
We believe ours to be an inclusive and mutual mission that cannot be faithfully discharged except by our reliance on the Holy Spirit to reveal the will of God to us through the grace of Jesus Christ.
Covenant
We covenant with God and with one another in mutual love and trust:
to worship God together,
to study and respond to God's Holy Word,
to witness in all the world to God's reconciling love,
to strive for love, justice and peace,
and to walk together in the ways of the Lord.
We rely on the Holy Spirit to lead and empower us.
We acknowledge God's covenant with us, made known to us in Jesus Christ.
We recognize our continuing need for God's grace, and our dependence upon each other, in the fulfillment of this covenant.
Amen.
Adopted by the Congregation
April 1994