Middlebury Congregational Church traces its origin to 1790, when the Connecticut General Assembly granted a charter for an ecclesiastical society to be established in the outlying districts of Waterbury, Woodbury and Southbury.
The people in the neighborhood, referred to as "West Farms" on maps from the time, had sought relief from their obligation to support the First Congregational Church of Waterbury, especially during the winter months when severe weather made travel for weekly worship services a hardship. Their request finally granted, the society was organized in January of 1791, and the first meetinghouse completed in 1794. Interestingly, two women were among the twelve persons that constituted the church at its formal organization on February 10, 1796, which was unusual at the time.
What was not unusual was that the church was organized before the town was chartered in 1807. Properly speaking, there was a Congregational Church in Middlebury before there was a Town.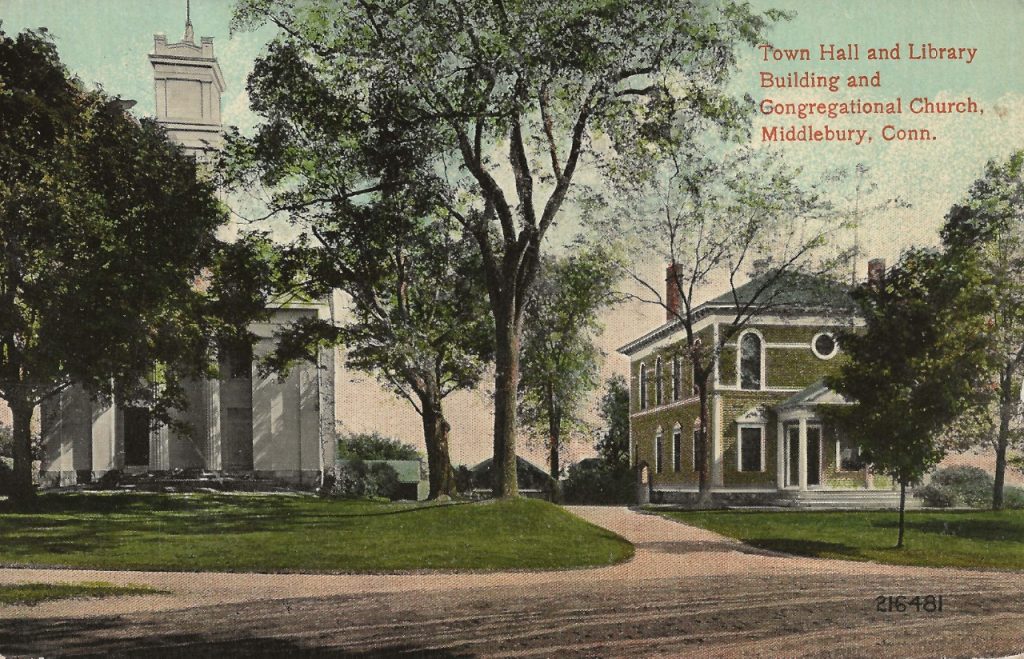 The congregation's first meetinghouse was situated on what is now called The Green. The steps and foundation stones were drawn from a mine in Roxbury and the bell was cast in Troy, New York. Both the bell and the steps were reused in the construction of the second meetinghouse, which housed the congregation from 1839 until April 8, 1935, when the church and the nearby town hall were destroyed by fire.
At the height of the blaze, as a stunned community looked on, the great bell, by then over a hundred years old, crashed through the burning rafters and shattered into pieces on the stone steps. The next day as the embers continued to cool, church members sifted through the ashes gathering up the scattered pieces of the old bell. These were later recast and now sound from the bell tower of the current meetinghouse.
The current building was completed in 1936 in the same design as its predecessor. In 1952 the building was expanded to provide educational and office space. More than 50 years later, another major renovation added six new offices, three new handicapped-accessible restrooms, a formal parlor, a youth room, a conference room, and an elevator that permits handicapped accessibility to all areas of the church.
Today, Middlebury Congregational Church emphasizes mission, music and religious education in its planned programming. Pastoral care and service to the wider community are ongoing commitments of the church, and its members continue their support of local missions such as the Middlebury Food Bank and Greater Waterbury Interfaith Ministries.
As were their ancestors, today's congregation is characterized by a strong sense of fellowship and an ecumenical spirit. Middlebury Congregational Church has a long-standing reputation as a spirited and lively congregation that attracts and welcomes people of all ages.