What is the purpose of Faith Formation (Christian Education)?
To come to know God, who is revealed in Jesus Christ, that our lives might have meaning and hope.
To connect the stories and symbols of our faith with our own life experience in order to live the way God wants us to live
To grow in understanding and knowledge of God and Jesus Christ that we might become fully alive, working for justice and wholeness for all people.
To grow in mind, body and spirit and in loving community with others.
To develop a deeper relationship with God, and a deeper understanding of how God is active in our lives and our world enabling us to reach out to love and serve others.
To share in the heritage and community of our faith so we may become the people God wants us to be.
To move from brokenness to wholeness, from despair to hope, from lies to truth, from hate to love, from doubt to faith.
---
SUNDAY SCHOOL
Sunday School, for children in preschool through sixth grade, takes place during the worship service. Children begin in the sanctuary with their families and leave for Sunday School classes approximately 15 minutes into the service. Children remain the worship services on communion Sunday (the first Sunday of each month), on some special occasions, and on all holidays.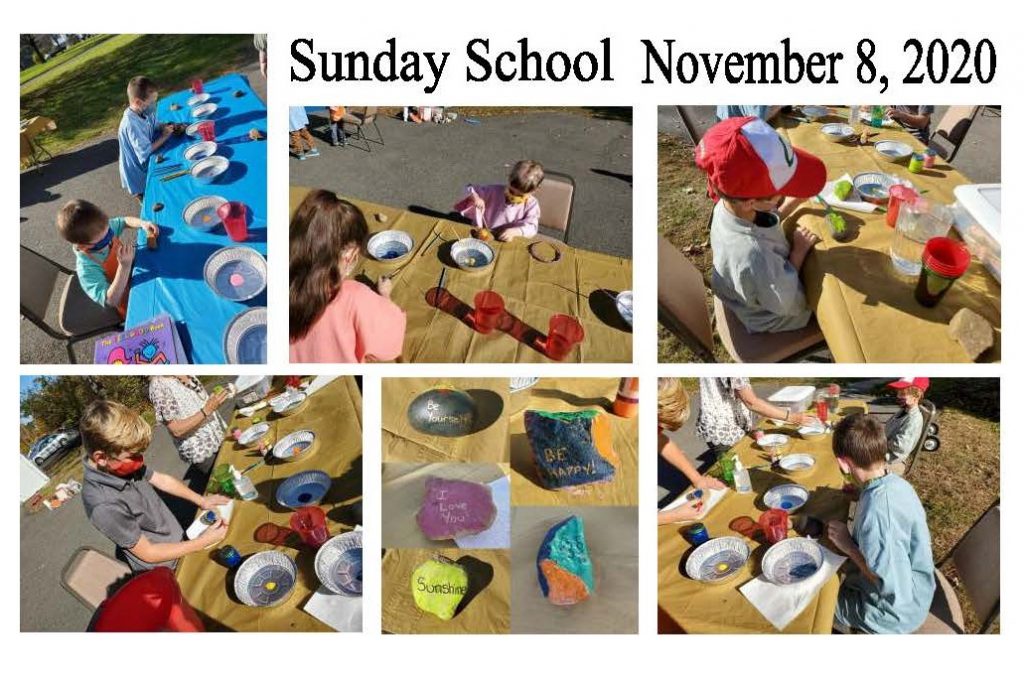 Our Sunday School curriculum is from the Cokesbury publishing company. The elementary school classes use "Deep Blue: At Home with God", and the middle school follows "Submerge". Each week, the children explore a new lesson in the Bible to help them understand what it means to follow Jesus and be a part of God's family. Lessons include fun activities, such as games, art lessons, science experiments, and service to others.
Throughout the year, there are special activities during the Sunday School hour, such as craft workshops and music Sundays. We also have an annual Easter Egg Hunt after the worship service on Palm Sunday.
The annual Christmas pageant takes place during an Advent worship service in December, with a rehearsal on the Saturday before. The pageant beautifully takes us through the story of Jesus' birth through narration and music. It incorporates people of all ages, as well as the talents of our adult and cherub choirs.
---

PILGRIM FELLOWSHIP (YOUTH GROUP)
Pilgrim Fellowship is a program for our sixth- through 12th-graders, divided into junior and senior groups, to help young people on the journey of Christian faith, fellowship, and service. All youth of the Middlebury Congregational Church are welcome, as are their friends and other youth who are willing to participate sincerely in Pilgrim Fellowship programs and events. Juniors will meet twice a month on Sunday afternoons; seniors once a month. An additional Pilgrim Fellowship program event each month will be a mission project or social event, but always a fun time!
Pilgrim Fellowship was suspended during the pandemic. Plans to resume have not been announced.
---

VACATION BIBLE SCHOOL
Each summer, Middlebury Congregational Church holds Vacation Bible School for children in grades kindergarten through sixth grade. The program runs for one week, Monday through Friday, from 9:00 a.m. to 12:15 p.m.
There is a central theme for the week. Past years have been "Operation Overboard: Dare to go Deep with God,, "The Everywhere Fun Fair: Where God's World Comes Together," "Workshop of Wonders: Imagine and Build With God," "Surf Shack: Catch the Wave of God's Amazing Love," "Hero Central: Discover Your Strength in God," and "Rolling River Rampage: Experience the Ride of a Lifetime with God." Each day, the children learn about a different Bible story connected to the theme. Throughout the day, the children rotate through many different classrooms, learning about the story through music, art, science, recreation, and story time. Snack is also included each day.
During the 2020 pandemic, Vacation Bible School took place via Zoom, with volunteers sharing videos reading a story or leading a lesson.
All our teachers are volunteers from our church. Some of them are professionals in their fields (music, art), and many are certified teachers who teach in local school districts. In addition to the teachers, we have a number of youth volunteers helping throughout the week.
---
This year our Vacation Bible School will be Cokesbury's Food Truck Party which will be coming to MCC June 26-July 1st. The week will focus on Matthew 6:11, "Give us this day our daily bread", and remind the children that everything we have comes from God, and by turning to God in prayer, our daily needs can be met. Children must be registered to attend. Registration ends on June 10th. To register your child/children please click the link below.
MCC 2022 Vacation Bible School Registration: Click here
CONFIRMATION
Students who will be in eighth or ninth grade by Spring are invited and encouraged to participate in separate confirmation classes starting the previous Spring in preparation for affirming their baptismal vows and/or joining the church at the end of the program. For more information, contact Pastor Katrina Manzi.
---
SCOUT TROOPS 5 AND 6, BSA
As part of its commitment to the community and its youth, Middlebury Congregational Church has been the charter organization and host to Boy Scout troops for generations. Troop 5 now has more than 100 Eagle Scouts to its credit, and Troop 6, its newly chartered sister troop for girls, is on track to have its first Eagle soon! Both troops have active, year-round programs of community service, camping, outdoor adventure and fun. They meet together on Thursdays at 7 p.m. at the church.
---
SCHOLARSHIPS
Charles P. Luckey Jr. / Mission Board Scholarship: As tuition and related costs have increased dramatically in the past few years, it has become more difficult for many students to finance their education. We are pleased to continue the memory of the Rev. Charles Luckey by joining with the Middlebury Congregational Church Mission Board to continue Rev. Luckey's efforts to help students and members of the Middlebury Congregational Church further their education.