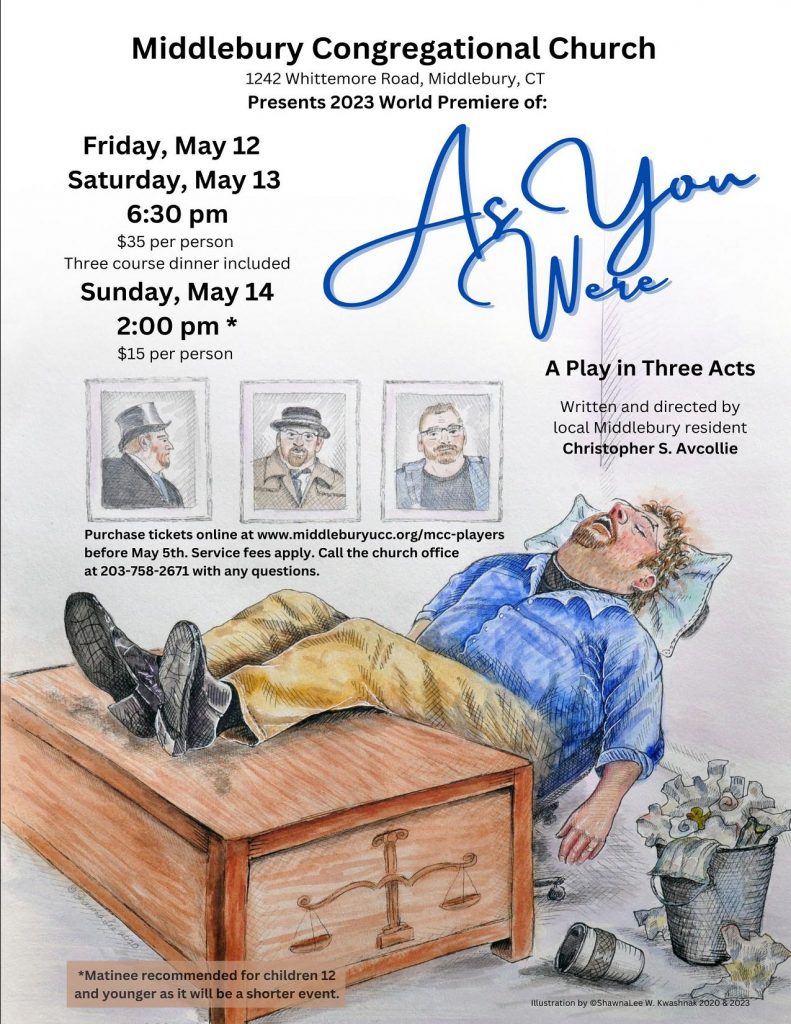 Here's your chance to enjoy a three-course dinner and a three-act show right here in Middlebury!
"As You Were," a play written and directed by Middlebury resident and MCC member Christopher S. Avcollie, will have its world premiere over Mother's Day weekend.
Joining Chris in the cast are MCC members Emma Avcollie, Audrey Finn, Michele Rowell Finn, Bob Giannini, Andrew Kwashnak, Anna Kwashnak, ShawnaLee Kwashnak, Katie O'Connor, Brenda Romaniello, Sal Sena and Kalman Zold. Music coordinated by David Obarowski.
Performance Dates:
Friday, May 12 at 6:30 pm – includes three-course dinner
Saturday, May 13 at 6:30 pm – includes three-course dinner
Sunday, May 14 at 2:00 pm Matinee
Tickets:
$35 per person for the Friday and Saturday performances (includes dinner)
$15 per person for the Sunday Matinee *
*It is recommended that children 12 and under attend the matinee as it will be a shorter event (no dinner).
The performance will be held in the social hall of Middlebury Congregational Church. We are located at 1242 Whittemore Road (across from Westover School).
To order using a credit card, choose your performance:
Friday, May 12 | Saturday, May 13 | Mother's Day, May 14 Matinee