Dear friends in Christ,
I hope you're all doing well this week. As a reminder, worship will remain at 10am and at our church the entire summer. There are a number of things going on in the life of the church this summer:
Worship Outdoors: July 10th and August 14th
Many people enjoyed the opportunity to worship outdoors the past couple years, so this summer we will have two outdoor services (weather permitting) on 7/10 and 8/14 in the outdoor chapel at 10am as our regular worship service for the week. The service will be more informal, and we're looking to sing some camp songs and have some fun. (There will still be a sermon.) We will record the service and then post it to YouTube later on.
Bring a chair and perhaps something for shade.
Summer Mission Project: School Supplies
We are collecting school supplies to help out kids needing some extra help getting everything they need to start school on the right foot. A list of all the supplies we're looking for is attached. All donations must be in by August 15th.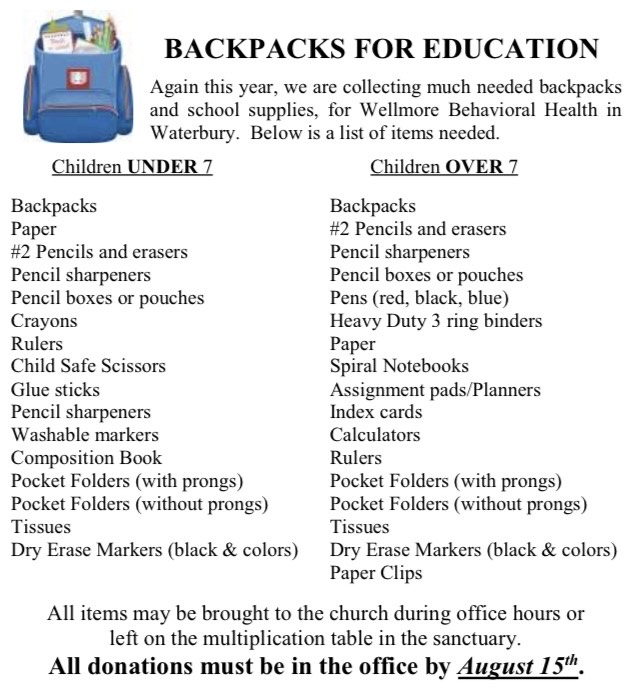 August Communion Moved to July 31st
Due to scheduling difficulties with finding substitute clergy for the Sundays of my vacation, the Diaconate has voted to move August communion up a week to July 31st when an ordained minister is available.
Open and Affirming Update from Church Council
"The Middlebury Congregational Church Council is excited to announce that we are beginning the Open and Affirming process this fall.
In response to member feedback and inquiries over the last year, Church Council voted to form a working group to gather information about the Open and Affirming process and explore whether MCC should begin the process of an ONA (Open and Affirming) designation. ("Open and Affirming" is a designation within the United Church of Christ that indicates a congregation has voted and made a covenant to be officially welcoming and affirming of LGBTQ people after a process of discernment and education.)
The ONA working group has reviewed a number of resources and met with representatives from the Southern New England Conference and area churches who have recently completed an ONA process, and the group report was brought to our Church Council. After hearing the report of the ONA working group, the Church Council unanimously voted at our June meeting to begin an Open and Affirming process, with educational events and discussions to begin this fall. The ONA working group is now the Open and Affirming committee and has been made an official committee of the Church Council. The ONA committee will make regular reports to Church Council on planned events, member feedback and progress.
The process at our church will begin with educational events and discussions, and during that part of the process there will be opportunities for member feedback and participation. Depending on the feedback and will of the congregation we will either continue with our educational programming or the Church Council will decide to call a meeting of the congregation to vote on whether or not we will officially be designated as an Open and Affirming congregation.
We are at the beginning of a process whose direction will be determined by our collective voices. We do not have a specific timeline, rather we will work collaboratively with and move according to the will of our church.
We are looking forward to beginning the ONA process together and seeing where the light of the Holy Spirit leads us as we enter this time of learning and discernment.
Together in Christ,
Ellen A, MCC Council Chair"
General Comments
We are midway through VBS, and Valerie and our volunteers are doing a wonderful job. I've attached pictures from the past two days. Thank you everyone!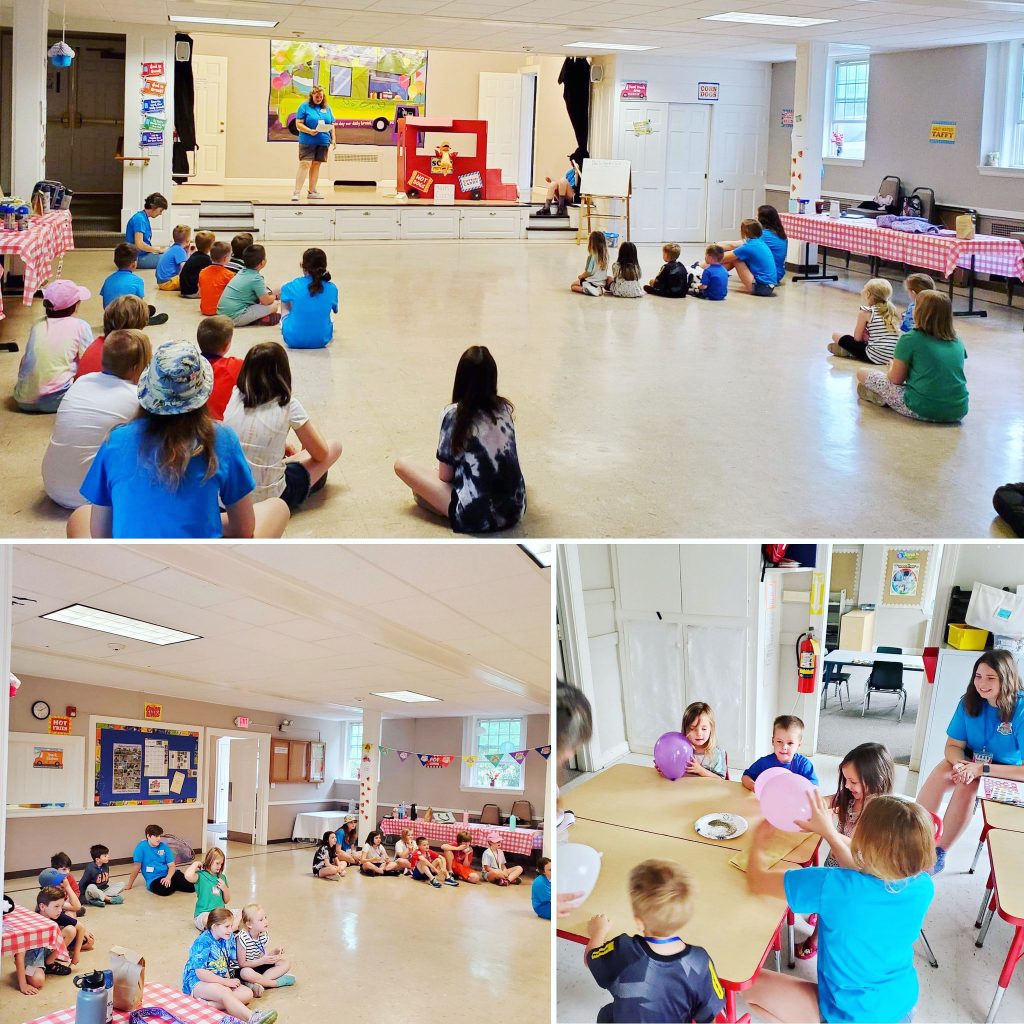 For this Sunday we've got two baptisms and members joining the church that were originally scheduled for March 15, 2020, so I'm excited to finally be able to officially welcome Jo Lee, Michael, and Joseph in the church.
This Sunday we're also continuing in Joseph's story. Last week he was sold by his brothers into slavery in Egypt, and this week we get to see how things go for Joseph once he gets to Egypt. This week's lesson is covered by this song from the musical Joseph and the Amazing Technicolor Dreamcoat: https://youtu.be/nL6LEPQpN_g (This is actually one of my favorite songs from the musical because in the orchestration my high school performed, the musical interlude in the song was done as a trumpet solo by me. And on that solo I got to use a plunger for effect, which was incredibly fun.)
Peace,
Pastor Katrina