Dear friends in Christ,
I hope you're all doing well after the nor'easter yesterday. There are a few upcoming events in the life of the church to highlight:
10/31: Reformation Day/All Hallows' Eve
This year October 31st, Reformation Day/Halloween, falls on a Sunday, so we might as well have a little fun. Children (and older children of God) are welcome to come in costume or in Halloween/fall themed attire. If you want to go all in, you can dress up as your favorite Protestant reformer/theologian.
November Mission Projects
Veteran's Day Lunches

We will be collecting donations for our Veteran's Day lunches. This year we will have Cub Scout Pack 6 come and help us pack up the 200 lunches we will donate to GWIM. Here is a sign up link for anyone who'd like to sign up to help: https://www.signupgenius.com/go/60B0548A4A82DABF58-veterans! Can't sign up online? Call Jeanine and she will sign up you for some slots! We would love any donation you are able to provide! We would love to have all donations in by November 8th.
Thanksgiving Baskets

We are sponsoring three local families and providing them with a Thanksgiving dinner! You can sign up here to help make these families' Thanksgiving a little brighter: https://www.signupgenius.com/go/60B0548A4A82DABF58-thanksgiving As with the Veteran's day lunches, if you cant sign up online, let Jeanine know and she will help you! We would love to have all donations in by November 22nd.
All Saints' Observance: 11/7
On November 7th, we'll be observing the feast of All Saints' during worship. In many Protestant churches like ours, the emphasis of this festival is on the ongoing sanctification of the whole people of God. We use this opportunity to give thanks to God for the ordinary, holy lives of believers in this and every age, especially those who have died in the past year. So, during worship, we'll be reading the names of people who have died that we'd like to give thanks to God for.
Please let me know if you have the name of someone you'd like included in worship. (I've already included the names of everyone who died in 2020 and 2021 where I officiated the funeral/memorial service.)
Church Repainting Update
Bob and Bill have been making steady progress the past number of weeks restoring and repainting the front of the meetinghouse, but in the past couple weeks they've transitioned from taking paint off to putting paint on. I've attached a picture showing some of the progress the past couple weeks.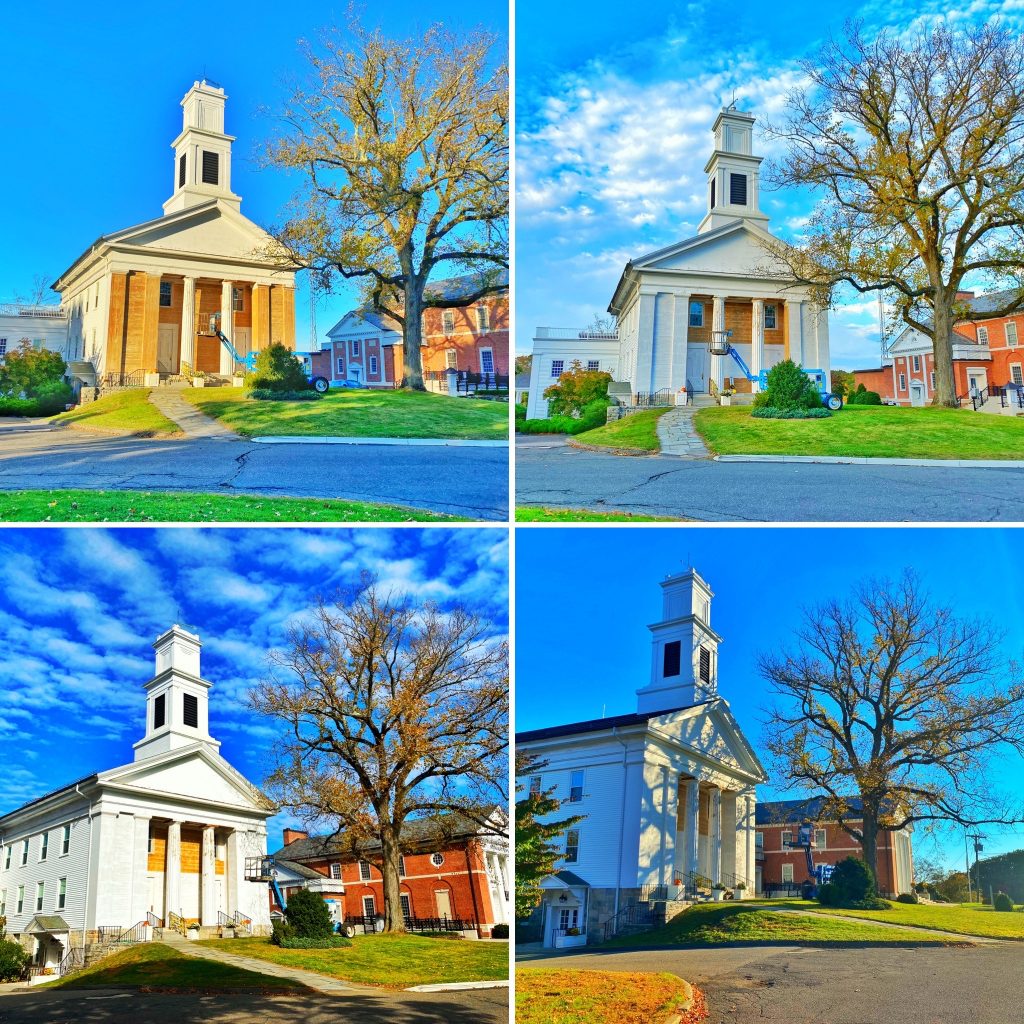 General Comments
When we think of Halloween, we tend to picture kids dressed up in costumes and trick-or-treating. But Halloween was originally part of a three day observance of the church focused on the dead: Halloween (All Hallows' Eve) on 10/31, All Saints' Day (or All Hallows' Day) on 11/1, and All Souls' Day on 11/2. The three days are sometimes known as Allhallowtide, and are still celebrated by especially Catholic or Episcopal/Anglican Churches.
Traditionally, the idea is that this time of year is a "thin place," a time when the barriers between the afterlife and this world grow thin and the spirits of the departed are close at hand. Some thought that the souls of the departed were still on the earth until All Saints' Day. In terms of church, Halloween was a vigil where people fasted and prayed in preparation for the feast of All Saints'. However, there were many popular customs and folk traditions that developed around the evening, some included dressing up to disguise oneself from wandering souls who were thought to be seeking their last chance at vengeance before going on to the afterlife. All Saints' Day was (and still is in many churches) the celebration of the saints known and unknown. Traditionally (and in Catholic theology), this observance is more focused on canonized saints who don't have a feast day. The following day, All Souls' Day, is the day where all the faithful departed are remembered and prayed for.
With the elimination of the theological idea of purgatory and simplification of the church calendar during the Reformation, the importance and necessity of these feasts waned for our branch of the church. However, as the centuries have gone on, many Protestant churches have come to realize that tossing out all of this part of the church calendar was throwing the baby out with the bathwater. So, in about the early 20th century All Saints' Day came back into many Protestant churches like ours. So, we've basically rolled both All Saints' and All Souls' into All Saints' Day. We take that day as a time to remember and give thanks for all the faithful departed and to proclaim the hope of the resurrection.
Peace,
Pastor Katrina